We've had a few of our customers raise issues regarding the Electronic Flight Bag showing up with a blank screen on the captain side.
This has been resolved by Microsoft, but you may need to update your Windows Defender Definitions manually. To do so please open "Windows Security" -> Select Virus & Threat Protection -> Scroll to Virus & Threat Protection Updates -> Click "Check for updates" and click "Check for Updates". Your version should be 1.391.860.0 or higher.
For example, in this image below, you can clearly see the FO side EFB illuminated and working and the captain side EFB, while plugged in, is not reporting any response at all when you try to initiate it.

We've found that a recent update to Windows Defender may be the possible cause to this. As has been provided by another of our customers below.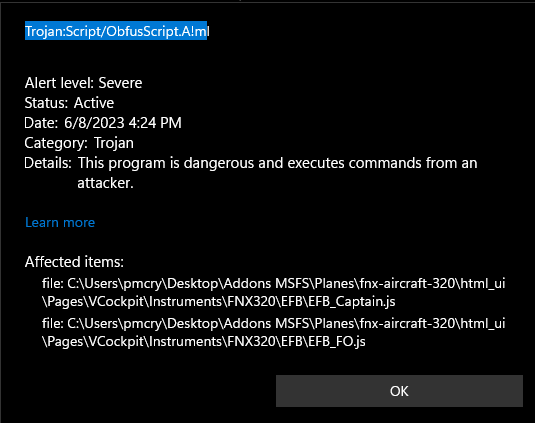 While we can confirm beyond any shadow of a doubt that the files are completely harmless, and have separately been in contact with our friends over at Microsoft to report this as a false positive, there is a temporary workaround.
You're going to need to write an exclusion within Windows Defender for the fnx-aircraft-320 in the community folder.
To do this, open up windows defender and hit Virus and Threat Protection > Virus and Threat Protection Settings > Manage Settings > Exclusions > Add an exclusion > Folder.
From there, navigate to the fnx-aircraft-320 folder within the community folder, highlight it, and click on select folder.
This will provide an exception to the folder from providing false positive.
If this doesn't fix your issue, one user found that you will need to check if the specific files (mentioned above) are in quarantine.
They're found by opening defender > Virus and Threat Protection > Protection history, whereupon you may see the EFB-FO.js and EFB-Captain.js files being held in quarantine. You will need to restore them from quarantine, then give MSFS and Fenix a restart, just to be sure.
We hope this measure will only be required temporarily whilst we work with Microsoft to remove the false positives of legitimate Fenix A320 files from Windows Defender.