When clicking INIT REQUEST, you receive INVALID F-PLN UPLINK.
To help troubleshoot your SimBrief import, please do the following steps.

Go to the FenixSim A320 app, and verify the username is correct. If you are unsure what your username may be, we suggest using Pilot ID instead. Please see the following knowledge base article to find your SimBrief Pilot ID: https://kb.fenixsim.com/how-to-use-fenixsims-simbrief-integration

If you are still having INVALID F-PLN UPLINK, please make sure that you are running the same Navdata for both SimBrief and Fenix. If you are running the default, make sure your simbrief AIRAC option is using the closest available Navdata cycle. We recommend a Navigraph subscription and using the latest Navdata cycle for best results. Learn how to update your Navdata using the following article: https://kb.fenixsim.com/how-do-i-update-my-navdata-using-navigraph
NOTE: FLT NBR, COST INDEX and CRZ FL are supposed to be empty after successful uplink
Specifying a custom alternate airport can also cause your flightplan uplink to be invalid.
If your Flight Plan has Latitude and Longitude coordinates, please read below!
We've located a bug when importing some formats of LatLong coordiates. We have determined the ARINC 424 shorthand coordinates will import without any issues. As a workaround while we work on fixing this bug, you must convert LatLong coordinates into this shorthand format. If you would like to import LatLong coordinates via SimBrief, see the image below, or visit the following website to learn how: https://code7700.com/arinc_424_shorthand.htm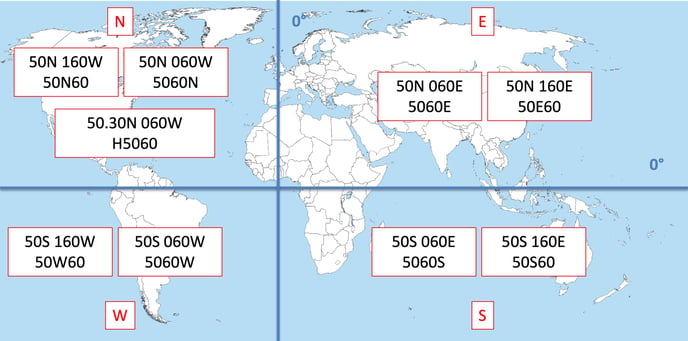 Example: 45N050W becomes 4550N
Furthermore, sometimes you will get the invalid warning when your flightplan has SID, STARS and flight levels in the route. Try removing these and then re-uplinking the route.
Also, when on the New Flight Dispatch page in Simbrief, please ensure under "Selections" that the "Detailed Navlog" option is checked.
We are also aware of an issue with BAVirtual users receiving this error.
---
Users who are getting an AOC SEC F-PLN UPLINK error, please see:
https://kb.fenixsim.com/i-received-aoc-sec-f-pln-uplink-after-init-request